We offer a range of yoga classes for all ages and abilities from beginners to advanced. Some classes are more gentle, suitable for those with injuries and others can be very dynamic, so be sure to find the right class for you. We also have kids yoga, teen yoga, pregnancy yoga, deep relaxation classes, meditation and Tibetan Bowls (sound healing).
Please
contact us
if you would like help finding a class.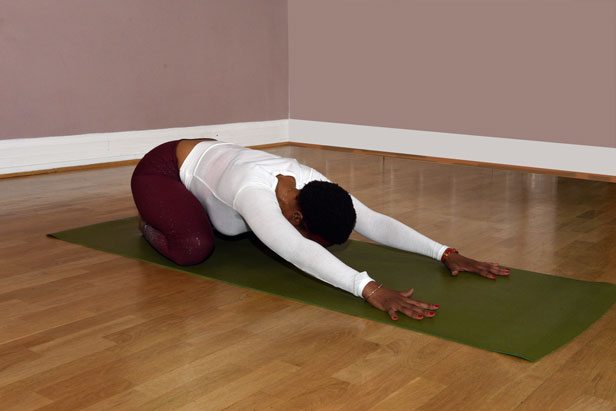 Gentle Hatha Yoga
Classes are suitable for beginners, those with injuries and students seeking a more gentle relaxing class.  Movements are done slowly with awareness to how the body is feeling and responding to the postures.  It may also contain some more challenging options but will always start with the basic posture so that you can choose what feels right for your body according to your individual needs.  This class will leave you feeling open and light and the mind very relaxed.
> View our Timetable for classes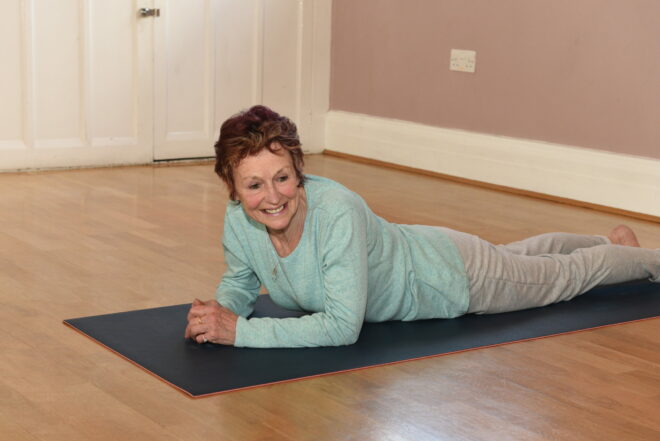 Gentle Hatha Yoga – Seniors Class
As we get older or find ourselves with injuries, particular positions may feel less comfortable and we need a more gentle approach. Any yoga posture can be adapted to suit the individual or an alternative posture used to bring the same benefits. This class will leave the student feeling that they have worked in a way that is stimulating yet remains comfortable at all times.
> View our Timetable for classes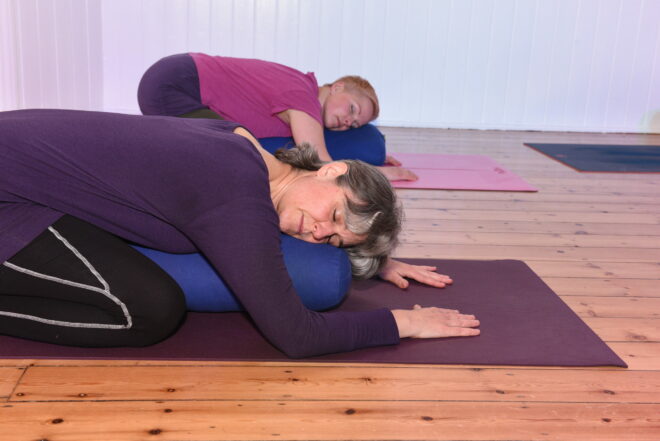 Restorative Yoga
Restorative yoga is suitable for all levels including seniors and those with injuries. The Restorative postures use supported positions allowing the nervous system to relax fully bringing all the benefits of the regular postures without any effort involved. The class finishes with Yoga Nidra a deep relaxation technique allowing the body to let go and release deeper tensions and stress. You can be seated comfortably or lying down for the relaxation. A perfect way to let go of any physical or emotional tensions and calm the mind.
> View our Timetable for classes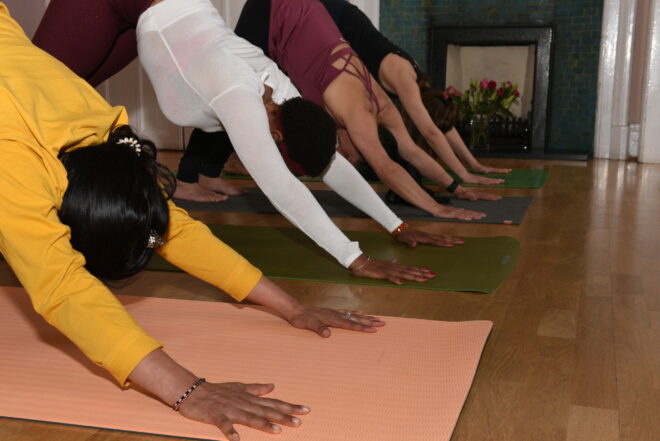 Hatha Yoga
This class is suitable for all levels and contains a mixture of flowing sequences and still postures focusing on the breath and alignment. Postures may be challenging at times but there is help where needed for beginners and more advanced variations for those who have practiced before.  The class will leave you feeling energized but also relaxed.
> View our Timetable for classes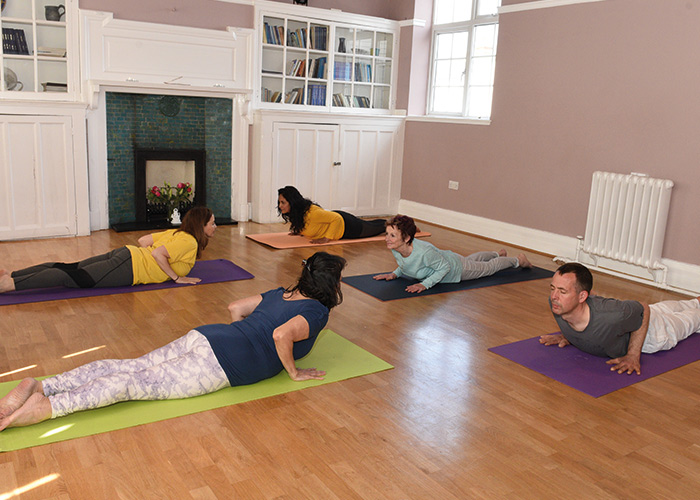 Sivananda Yoga
Sivananda is traditional Hatha yoga based on 12 classical postures and always starts with pranayama (breathing exercises). Stimulating the body and relaxing between postures with a long final relaxation gives the nervous system the rest and repair we so desperately need. While the physical body gains strength and flexibility, working with the breath develops concentration calming the mind and emotions. Based on a spiritual philosophy integral yoga is taught as a lifestyle including proper exercise, breathing, relaxation, diet, positive thinking & meditation.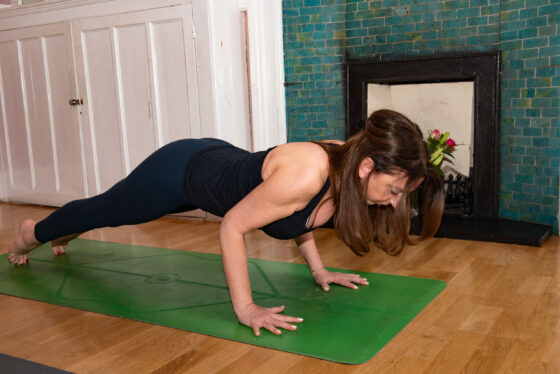 Hatha Flow & Dynamic Hatha Flow
The class is suitable for those without any major injuries or physical limitations.  This more dynamic form of Hatha yoga helps to build strength, increase flexibility and is suitable for those who would also like to include a slight cardio workout within their practice.  The main part of the class is made up of flowing sequences of postures with the emphasis on breath awareness and alignment to enable the mind and body to unite.  There is a deep relaxation at the end of the class. The Dynamic classes require a higher level of fitness and ideally some experience of yoga.
> View our Timetable for classes
Kids Yoga
Using games and visualisation yoga helps kids channel their energy in a positive and fun way. Short relaxations and deep breathing between the postures help develop focus and concentration in a calming and safe environment. Suitable for ages from 5-10 years.
> View our Timetable for classes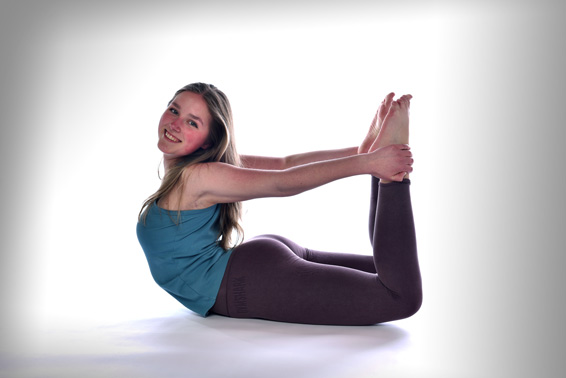 Teen Yoga
Teenage years can often be difficult and Yoga can help find a balance when all else is changing. Strengthening the physical body, calming the mind and emotions and helping to find deep relaxation. Meeting other teenagers in the group can be a positive and fun way to exercise and relieve stress. Suitable from Age 11-16.
> View our Timetable for classes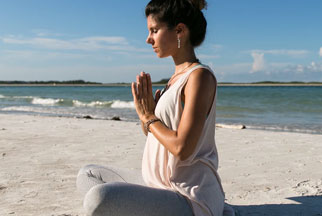 Pregnancy Yoga
This class is suitable for those who are past the first three months of their pregnancy. The class will be stimulating but always in a controlled and careful way. The body is more flexible during pregnancy and yoga can help build stamina and strengthen the core muscles needed for childbirth. Practising deep breathing and relaxation will help balance the mind and emotions.
> View our Timetable for classes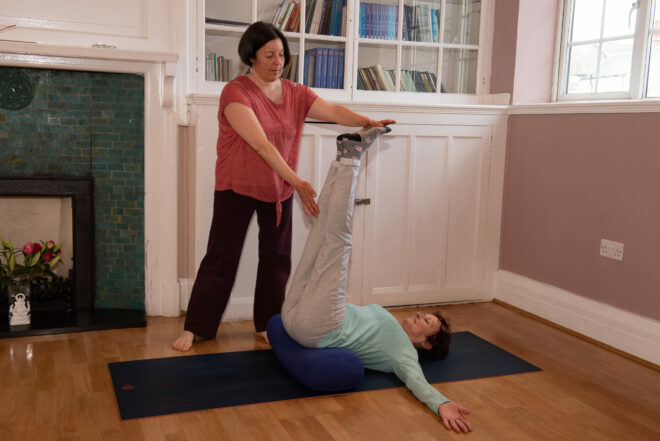 One to One Yoga Sessions
Individual sessions are available by appointment for those who wish to work privately with a teacher to meet their specific needs. This can be helpful if there are particular medical conditions or injuries or to build confidence before joining a group class.
Please Contact Us to arrange an appointment.
> Enquire about One to One Sessions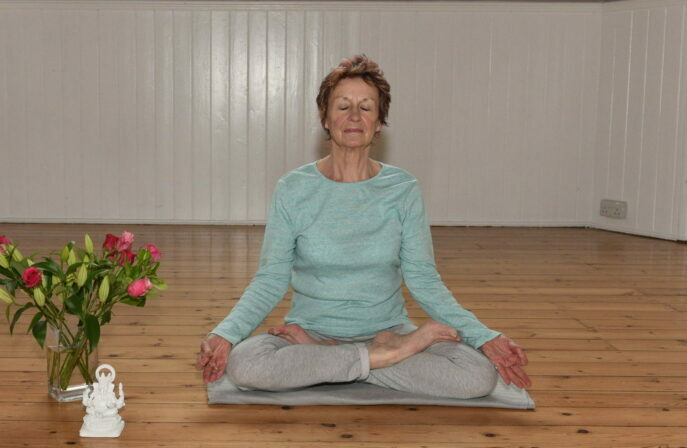 Meditation
The class is suitable for all levels from complete beginners to those who already have a regular practice. Meditation helps to relax the physical body and calm the nervous system, it also helps to focus the mind and balance the emotions. Meditation allows us to draw the senses away from the fast pace of the external environment and find a calm still and quiet place on the inside.
> View our Timetable for classes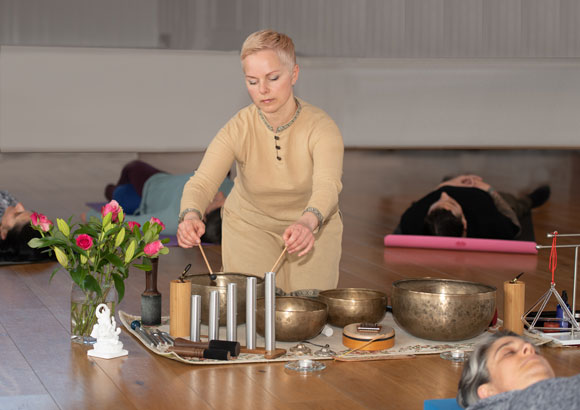 Tibetan Bowls (Sound Healing)
Tibetan Singing Bowls create a range of sounds to restore the normal vibratory frequencies of diseased and out-of-harmony parts of the body, mind and soul. Creating the perfect state for deep relaxation of the body and nervous system, it restores the natural flow of energy through the chakras and gives a subtle internal massage to all the body cells. The soothing vibrations have a grounding and centering effect on the nervous system leaving you feeling deeply relaxed and balanced.
> View our Timetable for classes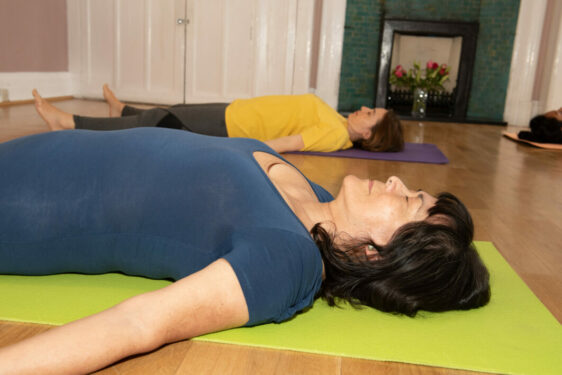 Yoga Nidra (Deep Relaxation)
This special online class is to help find deep relaxation in the fast pace of life. It will be a mixture of breathing practices, meditation and guided relaxation (yoga nidra). Suitable for all levels including seniors and those with injuries. You can be seated or lying down in any comfortable position or use a chair if preferred.
> View our Timetable for classes
Click below to see the timetable and book your class!