North London Yoga Centre offers beginners yoga, intermediate and advanced classes with a variety of different traditions including Sivananda Yoga, Hatha Yoga, Hatha Flow and Gentle Classes. We have classes for kids, teenagers, seniors, pregnancy and can do one-to-one sessions. We also run workshops and have weekly Meditation classes, Deep Relaxation and Tibetan Singing Bowls (sound healing).
Visit our Timetable for information and booking classes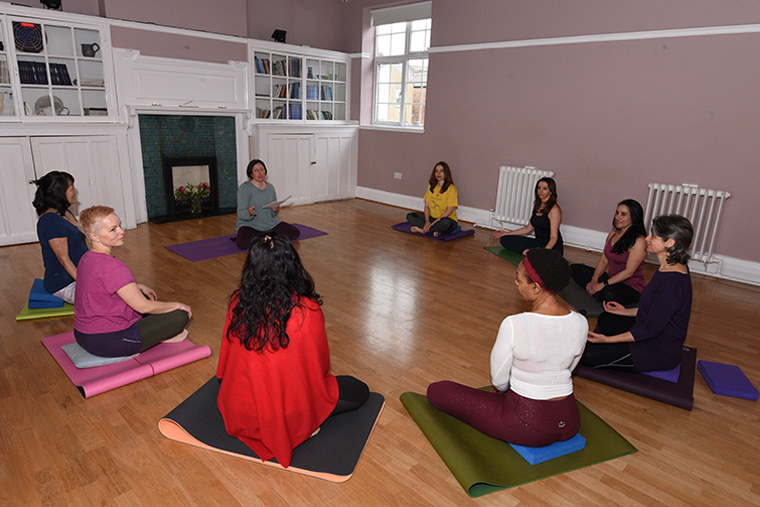 Pembe started North London Yoga Centre in May 2014 with only 8 classes per week and over the years has expanded to include a community of 15 fantastic teachers and around 40 live and online class options per week.  The Centre has very loyal students who have been part of the centre for many years and this makes it a very special environment to learn and practice yoga.
North London Yoga centre welcomes everybody regardless of age, ability and background.  As soon as you join our centre you are part of a yoga family that are here to support you and we have classes every day with dedicated and caring teachers.  Every student is important to us and we aim to find a class that is right for you and provide a supportive, relaxing environment to practice yoga.
Everyday Something New
With so many different types of classes and teachers you can choose your class according to how you feel on the day. We have regular workshops with guest teachers sharing their knowledge and experience.
Exceptional Teachers
Our teachers are all working together as a community to bring you the best classes with the most dedicated and experienced team.
Easy To Book Classes
Book or cancel classes online from our website or through the MindBody app. You can buy a drop in or a block of classes to use for any class on the timetable.
Support
We are here for you by mobile phone or email at any time if you have any questions or wish to chat about the classes.
Classes 7 Days A Week
We have mixture of 40 Live or Online options per week with all different styles of yoga for every level.
Accessible Online
All Live classes are also streamed online so you can join us from the comfort of your home or from anywhere in the world!
New to us? Here is an introduction to our teachers, who run the centre and provide supportive yoga and meditation.  
Pembe Wright
Director of NLYC
Carol Stevens
Yoga Teacher & Therapist
Ellen Georgiades
Yoga Teacher
Meet all our amazing teachers each with their own unique qualities to help you get the best from your class experience.
Sign Up To Our Newsletter
Make sure you get the latest in our newsletter, with class updates and exclusive offers!